---
NEW SHOP COMING SOON
MONOGRAPHS
JUST ONE MORE (2017).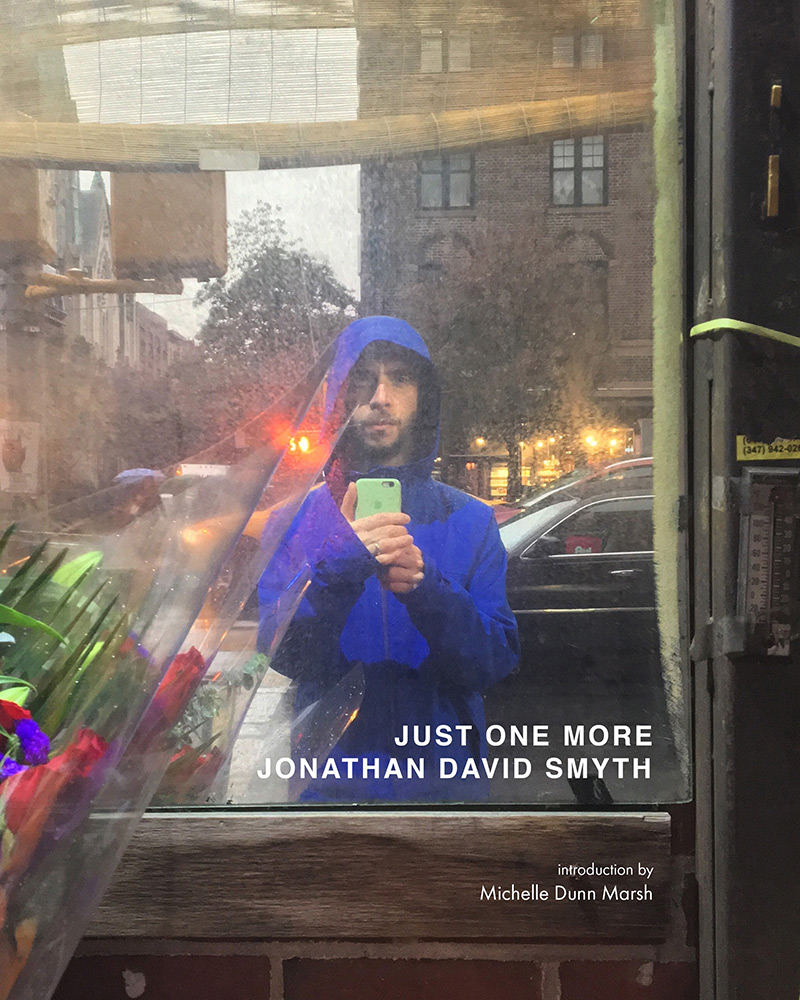 Signed Edition

Includes:
One personalised book
Original press release
Weight: 0.8125 oz
Dimensions: 10x8x0.3 in.
Artist: Jonathan David Smyth, Michelle Dunn Marsh (Introduction), Dana Stirling (Conversation)
Date: 18 Oct 2017
Format: Softcover, 60# pages
Pages: 138
ISBN: 978-0-9992078-0-2

Since moving to New York City in 2012, Belfast-born visual artist Jonathan David Smyth has been photographing reflections of himself. Shot completely with his camera phone, this ongoing series of self-portraits combines issues of identity, displacement, belonging, and impermanence.

As Smyth says, "I make photographs to prove I am here. My work is cathartic, but I want other people to relate to what I am presenting. Just One More is a work of moments; it is a visual diary of my life in New York City, and these photographs are the mappings of where I have been. The pictures already exist; I am just stepping into them."

Featuring fifty plates accompanied with handwritten captions, this monograph also includes a critical essay by the executive director of Photographic Center Northwest, Michelle Dunn Marsh, and a conversation between Jonathan David Smyth and photographer Dana Stirling.

---
NOW THAT YOU'VE GONE AND COME BACK (2023).

Limited Edition

Includes:
One book (signed + numbered)
One colour print (5x7in.)
Original press release
Weight: 10.08 oz
Dimensions: 10x8x0.3 in.
Artist: Jonathan David Smyth
Date: 13 Sep 2023
Format: Softcover, 60# pages
Pages: 98
ISBN: 978-1-950231-89-8

Inspired by finding and reconnecting with his birth mother, queer Northern-Irish artist Jonathan David Smyth's latest monograph brings together a range of mixed media and text, including a series of nude self-portraits created predominantly during the 2020 lockdown.

"Before re-meeting my biological mother, I'd never encountered a direct physical resemblance between me and another person," explains Smyth. "After we met, I found it nearly impossible to not see her face when I looked at myself in the mirror. This led me to think about the idea of family in its many configurations; how other people can mentor us or deter us, and how shared circumstances and stories can affect and shape us as individuals."

Now That You've Gone and Come Back features 20 nude self-portraits, 20 handwritten pieces, three original poems, and a personal essay by the artist.